Mandus Group excels in creative engineering, quality manufacturing, standardized processes, and program management. This solid foundation allows it to provide the best products, within their class, in the industry at competitive prices. That menu of services is now being expanded to include complete logistics support and design/build capabilities across a wide spectrum of product categories.
Mandus Group is a turnkey operation for all manufacturing, program management, and logistic support requirements. Difficult projects that require innovation, unique solutions, and quick response are a forte and Mandus Group has a track record of success to prove it. Reference the Hydraulic System Test and Repair Unit (HSTRU), the MG3000 Mechanical Gymnasticator, and the MG1100 Nitrogen Generator along with the rest of our product line as proven examples of Mandus Group's ability to take a concept through the design and prototype stage to full scale production.
Mandus Group offers complete solutions which include all of the following service areas: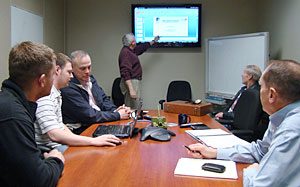 Design/build capability that spans a wide range of manufacturing sectors.
Technical assistance, including engineering support.
Manufacturing, fabrication, and assembly of components and systems.
Fabrication and manufacturing of out of stock parts.
Develop, update, and translate technical manuals.
Stock, store, and issue parts on customer demand.
Provide on sight or outsourced maintenance support.
Complete maintenance solutions ranging from simple repair to complete overhaul.
Develop and/or apply system modifications.
Maintenance training.
Develop, fabricate, and manufacture specialized tools.
Develop, fabricate, and manufacture specialized equipment.
Unique experience in military equipment, systems, and components.
Mandus Group possesses an exceptional team of veteran program managers, engineers, and technicians that possess years of experience in the design and manufacture of highly technical components and equipment. Additionally, Mandus Group has developed partnerships with area engineering universities and other small businesses that offer unique expertise in varied design, engineering, IT, and manufacturing regimens.
Mandus Group is located in an 8,000 square foot facility next to the Rock Island Arsenal in Rock Island, Illinois. Mandus Group maintains a contract with the Army Armament, Research, Development, and Engineering Center (ARDEC) for use of its Advanced Visualization Center for rapid design and prototyping. Additionally, Mandus Group maintains a public / private partnership and a basic ordering agreement with the Rock Island Arsenal which combines world class commercial and government manufacturing services that cover rapid prototyping to full scale manufacturing. Mandus Group is the premier solution for manufacturing support and services worldwide.